Why Burris Machine?
Burris Machine Company, Inc has been America's premier manufacturer of score cut/crush cut knife holders and related products FOR MORE THAN 30 YEARS!!! Since 1973, our worldwide customer base has received quick answers to their technological questions from our experienced staff, headquartered in Hickory NC. With Burris you get a knowledgeable Burris associate to respond to your needs, and not the frustration and confusion, of a non-helpful, computerized menu or voice mail.
World-class quality and American-made products are what our customers expect and receive. The resulting trust in our products and process has created a loyal customer base, many of whom have utilized Burris for 30+ years. Burris listens to its customers, leading to frequent development of new styles and adaptations for the knife holder, as well as new tools for ease in servicing slitting-related products.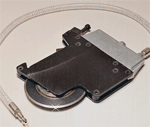 Burris offers same day service on parts and maintenance items requested. Our prompt delivery earns heart-felt customer appreciation.
Durable, precise Score Cut/Crush Cut Knife Holders and related parts are manufactured to exacting standards, using the best available materials and CNC equipment. Burris holders are available in a variety of styles, configurations, width and sizes. In addition to industry standard products, Burris's technicians will meet your needs for special items and any custom adaptation needed for your processes or equipment.
Competitively priced score cut/crush cut knife holders are Burris's main manufactured product, not an "add-on item" which is then used to sell other equipment or services. Our professional work force and thirty years of product experience stand behind every Burris product. Your satisfaction is guaranteed!